Protests erupt in Turkey and Iraq over Ankara's operations against IS and Kurdish militants
Comments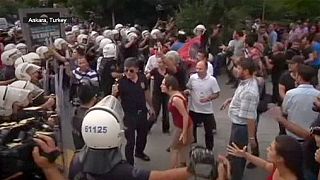 Hundreds of people took to the streets of Ankara to protest against Monday's suicide bombing, blamed on Islamic State militants, as well as condemn the Turkish government's actions.
Police, who outnumbered the protesters, used pepper spray and water cannon to disperse the crowds.
According to local media up to 30 people were arrested.
In the northern Iraqi city of Sulaimaniya, demonstrators gathered to protest Turkish airstrikes on the Kurdistan Workers' Party or PKK in the country.
Still in Iraq, almost 200km away in Irbil, protesters chanted anti-Turkish government slogans and headed towards the Turkish consulate, where they were greeted by a line of riot police.
Many of the protesters accuse Ankara of supporting ISIL mililtants by attacking Kurdish people.