Obama wraps up Kenya trip with declarations on democracy and message of hope
Comments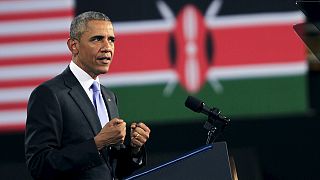 On the last day of his visit to Kenya, Obama mixed the personal with the presidential and told Kenyans the country stood at a crossroads, a moment filled with peril but enormous promise.
Stating that America would stand shoulder to shoulder with Kenya which is facing increased violence from militant Islamist group Al-Shabaab he said, "Terrorists who try to sow chaos, they must be met with force. They must also be met though with a forceful commitment to uphold the rule of law and respect for human rights and to treat everybody who's peaceful and law-abiding fairly and equally."
He also told the crowd of nearly 5,000 that Kenya must not treat women as second-class citizens, that it must tackle corruption and embrace diversity, a clear reference to gay rights. In the country where homosexual sex is punishable by up to 14 years in jail, discrimination and violence against the LGBT community is common. Kenyan president Uhuru Kenyatta clashed with Obama on Saturday, saying the subject of gay rights was not an issue for his citizens.
Nairobi resident Paul Owaga backs the view of his leader saying, "I think that is being democratic. Uhuru is obeying the wish of Kenyans and Obama is obeying the wish of Americans and those are two different cultures. It is a cultural problem, it has nothing to do with law."
His trip to Kenya has been bitter-sweet, with some disappointed that he left the trip so late in his presidency. There are critics who say he devoted more importance to ties with Asia and the conflict in the Middle East. Addressing the criticism that he hadn't visited Kenya until now, Obama said that he said he did not want Africa to think he was playing favourites. He is due in Ethiopia later on Sunday.
Wrapping up his visit Obama offered insight into his life post-White House, saying "I'll be back", he said he hoped to pursue philanthropic work in the homeland of his father and other African nations.