Burundi elections 'deeply flawed' says US
Comments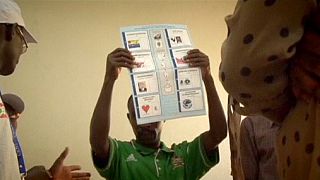 Burundi's President Pierre Nkurunziza has won a third term in office in an election the US called deeply flawed.
Nkurunziza took nearly 70 percent of the vote after the opposition boycotted the ballot, accusing him of violating the constitution in seeking re-election.
Observers from the East African Community said the elections were neither free nor fair. The country's Foreign Minister Alan Nyamitwe dismissed international criticism.
"Observers were invited. Now if organizations choose not to send an observer team after having been invited, then it is not up to the country which is invited to respond…we do not think it's up to anybody to disregard or misinterpret the choice made by people from a sovereign state."
Braving bullets in Burundi: Excessive lethal force used to crush demonstrations http://t.co/M2KTQoLrF3pic.twitter.com/HTdwhWo6jx

— AmnestyInternational (@AmnestyOnline) July 23, 2015
The African Union and EU withdrew observers last month in the wake of increasing violence in the run-up to the poll. More than 150,000 Burundians fled to neighbouring countries.
A #Burundi girl waits & guards her family's belongings while they queue for registration in Tanzania. UNICEFTanzania</a> <a href="http://t.co/wwaIZWEAIK">pic.twitter.com/wwaIZWEAIK</a></p>&mdash; UNICEF (UNICEF) July 24, 2015
The decision of President Nkurunziza to run again for a third term on April 25 led to protests in the capital, Bujumbura. An attempted coup d'etat followed on May 13. According to United Nations High Commissioner for Human Rights (OHCHR) at least 58 people in violence linked to protests since April 26 2015.
Amnesty International released a report detailing human rights abuses by law enforcement in cracking down on protests. In its report Braving Bullets – Excessive force in policing demonstrations in Burundi, the human rights group found that police used 'excessive lethal force, including against women and children, to silence those opposed to President Nkurunziza's bid for a third-term.