Westerners volunteer with Kurdish militia against ISIL
Comments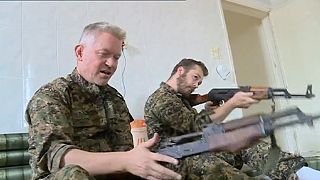 Westerners are also committed combatants against the Islamic State jihadist movement in Syria. They have been fighting at the side of the Kurdish YPG, in Al Hasakah in northeastern Syria. British-born Michael Enright left an actor's life in Hollywood. He was in Pirates of the Caribbean, for instance. He trained here for a few weeks. Enright explains his reasons for coming.
"When James Foley, the first journalist, had his head cut off, he was kneeling down. His hands were tied behind his back so he had no opportunity to defend himself from this coward — because that's what he was. He was an English coward. He cut his head off. That was very difficult — especially because he was English — that was very difficult for me to see that."
In Rojava or Western Kurdistan, the Kurds are fighting to maintain their regional autonomy by defeating ISIL.
The brutal group bent on establishing its own caliphate also has westerners on its side.
A former soldier in the Canadian military, giving only his first name, John, says his friends called him crazy to come, at first.
"If you have an average amount of empathy for your fellow human beings, you can't just watch this kind of thing happening on the news and just think of it as 'well, it's too bad,' and then you just go about your day. It doesn't work like that. You have to do whatever is in your power to do. This was something that was in my power to do. My family understand that and they know that there is no stopping me from doing this."
Robert Rose is American, a civilian security guard from the Bronx. When he heard about fellow countrymen moved to take the personal initiative, he left New York.
Rose said: "I was proud, 'specially the Americans… When they come here and give up everything to come here as volunteers, put their lives on the line to stand up for humanity, and what is right, and what they believe in. That's something I wanted to be a part of as soon as I… As soon as the first American I heard was doing this. It was something I wanted to do immediately, in my heart."
Syria's civil war is in its fifth year, with no indication of letting up soon.
John, however, is optimistic.
"I think We can win. That is the thing I've seen. Everybody is very afraid of Daesh [ISIL or Islamic State], but from everything I've seen, they bleed like normal people, they die like anyone else, they don't stand up to airstrikes any better than any normal human beings do. They can be beaten."