Louisiana killer planned escape before police closed in
Comments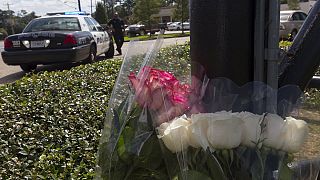 Police have identified the gunman who killed two women and left nine others injured before shooting himself in a cinema in Lafayette, Louisiana.
Authorities described John Russel Houser as a "drifter" from Alabama who was staying at a motel close the murder scene.
Latest on #LafayetteShooting: All about the suspect John Russel Houser, and the two victims: http://t.co/CHAKfIdIJ2pic.twitter.com/vqpuYQ4Yph

— The Adam's Corner (@TheAdamsCorner) July 24, 2015
Lafayette police chief Jim Craft spoke to the media: " His criminal past is very, very aged he hasn't had anything that we have found so far, arrests or anything thing like that, for 10 to 15 years, maybe longer.
This is such a senseless, tragic act. Why would you come here and do something like this so, just like the victims, we are searching for answers too"

These are the victims of the #LafayetteShootinghttp://t.co/n76HR4AcQ8pic.twitter.com/AUZxOoG04P

— Newsweek (@Newsweek) July 24, 2015
Authorities say the 59-year-old had planned to escape the cinema, but returned to the auditorium after the police closed in.
A search of his motel room uncovered wigs and a number of disguises. He has also changed his car registration plate, which was parked outside the cinema.
Please pray. #LaFayetteShootinghttp://t.co/mdXVC6xDTS

— Monica Almond (@DoctorVirtue) July 24, 2015
Of the nine people taken to hospital, one is in a critical condition and two have returned home.