Tom Daley "can't wait" to compete at Rio 2016
Comments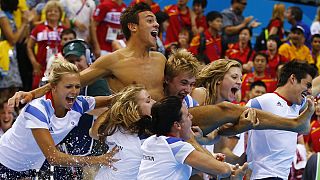 Tom Daley and the Olympics may go together like toast and jam but the former World Champion told Euronews in an interview Thursday that he didn't even know what the Games were when he started diving.
Aged 14, Daley was the youngest member of the British team at the Beijing Olympics. He finished seventh in the individual 10 metre platform final and eighth in the 10 metre synchro with partner Blake Aldridge, but swept up by the whole whirlwind experience, he struggled to appreciate the enormity of the occasion.
"When I first started diving I had no idea what the Olympic Games were," Daley said. "It wasn't until I watched the Olympics back in 2004, that I realised how much I wanted to be a part of Team GB."
"Although I competed in the Beijing Olympics, I don't think I fully comprehended the scale of the Games, even then."
But having gained a wealth of knowledge and experience following his Olympic debut, the 21-year-old Briton is now relishing the opportunity to compete at a third Olympics in Rio, even if his 10 metre platform final takes place late at night.
"Competing at the Olympics is an incredible experience," he said. "You spend four years working towards the most prestigious event in your sport."
"I've competed at night before, so that's not something I'm concerned about. Once you know what environment you're competing in, it's a case of making sure you get the right training in.
"I imagine in the months preceding Rio we'll be doing some evening sessions outdoors. It's all about preparation.
"I think they'll be a great carnival feel in Rio over the Games. It will be my third Olympic Games, and I can't wait!"
Demon Dives
Daley has maintained that the secret to his success is down to his passion for the sport, but he also acknowledged that determination alone would not enable to him to go one better next summer and claim Olympic gold, the only title missing from his already impressive cabinet.
Early this season, Daley made a decisive move to drop from his repertoire the back 2.5 somersaults with 2.5 twists, a dive referred to as the 'demon dive', owing to the difficulty he experienced when executing the manoeuvres.
He instead replaced it with the front 3.5 somersaults with one twist, his 'firework' dive, in an attempt to give him an edge over his rivals.
"My front 3.5 somersault with one twist is coming on well. I only started working on the dive at the beginning of the season, but I've been pleased with the progress so far," Daley reported of his dive which has helped him regain top form.
"With any new dive it's about consistency, so that means lots of 10 metre work for me! I know I can score well with the dive in competitions now, which isn't something I could say about my previous twister."
He will be conscious, however, of not overworking his body too much, having suffered repeated injuries to his triceps muscle, which in the past have forced him to withdraw from numerous events.
"Touch wood, I've been injury free this season," Daley confirmed. "Together with my coach, physio and strength and conditioning coach, I've got a great training programme which is working well for me at the moment."
"It's about making sure I keep my strength in areas we know are prone to injury."
In preparation for the Rio Olympics next year, Daley will compete at the FINA World Championships in Kazan, Russia, from July 24 to August 9.