Some Kenyans waiting for Obama risk disappointing no-show
Comments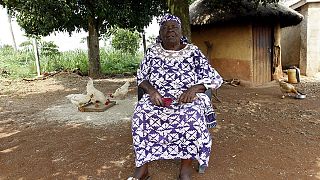 Kenyans celebrated warmly when Barack Hussein Obama won the US presidency in 2008. All these years later, the first mixed race American head of state has visited the African continent four times but kept the Kenyans waiting.
In Obama's father's village of Kogelo, they could use some cheering up; the official word is he's not going to visit them.
Villager Richard Okello said: "[We're] very disappointed. We want our boy to come to our place, let him come to greet his gran. Then we shall be the happiest people in the world."
The village on the verge of the Equator and near Lake Victoria is where Barack Obama, Sr. is buried — an economist who left and then came back, whom his son would barely know, married and divorced several times. He was killed in a car crash at 46.
Obama came here in 1987 and 2006, while he was a senator. His extended family is numerous.
The president calls Sarah Obama, third wife of Barack Obama's paternal grandfather, 'Grandmother'.
Sarah Obama says that "every Kenyan is his brother," and that even though she would love to have him come, she is content that he visit Kenya as a whole. She and others in the family call Obama 'Barry'.
While he was on the presidential campaign trail in 2008, the Kenyan government ran water and electricity to the village. People hoped for more from the US government.
Stephen Okumu, the deputy head teacher at Senator Obama Kogelo Primary School, said: "We feel disappointed because when he became president we thought more things would come, but up to now nothing has come. We are expecting exchange programmes between American schools and our school."
Kogelo children who have never seen Obama are among the many Kenyans who would be happy if he changed his mind and showed up after all.