Greek parliament votes on second set of bailout measures
Comments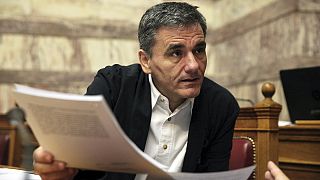 Greek Prime Minister Alexis Tsipras and bankers arrived for a meeting on Wednesday (July 22) as the country's parliament prepared to vote on the second set of bailout measures – a condition for talks to begin aimed at keeping Greece in the euro.
Tsipras is likely to need opposition votes again for measures parliament will vote on to prop up failed banks and speed up the justice system. The vote, which is due to take place late on Wednesday, are part of conditions to start talks on the 86 billion euro rescue deal.
The government hopes the negotiations can then start this week and be wrapped up by August 20, but with divisions within Tsipras' leftist Syriza party laid bare by the votes, snap elections are likely in the autumn.
In the first signs of a return to normality, Greek banks reopened on Monday (July 20) and Athens paid debts due to the European Central Bank and International Monetary Fund.
On Tuesday (July 21), Standard & Poor's upgraded Greece's sovereign credit rating by two notches, saying the country's liquidity perspective had improved with bailout talks.
But the fresh austerity measures are hard to accept in a country whose economy has contracted by a quarter during five years of crisis and where unemployment is more than 25 percent.
The main public sector union ADEDY has called for a rally on Wednesday evening in front of parliament.