Artist Ai Weiwei's confiscated passport returned after 4 years
Comments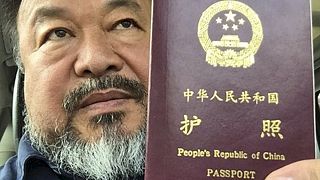 A Chinese free speech advocate and who was held in secret detention for 81 days says that Beijing authorities have returned his passport.
Ai Weiwei, a 58-year-old dissident artist and government critic, had his passport confiscated following his detention four years ago.
Chinese dissident artist aiww</a> granted passport &amp; able to travel for first time in four years. <a href="http://t.co/uTPDG9Qztd">http://t.co/uTPDG9Qztd</a> <a href="http://t.co/TGRRiCt3UR">pic.twitter.com/TGRRiCt3UR</a></p>&mdash; theQuietus (theQuietus) July 22, 2015
The surprise move comes amid a deepening crackdown om civil society in China.
Ai was behind an art installation featuring 10 tonnes of porcelain sunflower seeds in London's Tate Modern in 2010.
Ai weiwei maked his #art at Tate Modern:100 000 sunflower seeds…Equals?No! Diferents!You can see if you want. pic.twitter.com/94YdhfCp0R

— Miroslava Orozco (@Miroslava_O) March 30, 2015
Ai was detained in 2011 without charge and held mainly in solitary confinement, sparking an international outcry. A court later upheld a 2 million euro fine against Ai for tax evasion.
The world-renowned artist maintains the charges from the tax evasion case were trumped up in retaliation for his criticism of the government.
In November 2013, Ai started protesting his travel ban by putting flowers in the basket of a bicycle outside his Beijing studio and home. On Twitter, he said he would do it every day until he "regains the right to travel freely." On Wednesday (July 22), he said it had been 600 days.
Police did not give Ai "any additional conditions or warnings" for the return of his passport, he said, adding that it was "very relaxed."
从2013年11月30日开始,每天早晨,我在草场地258号工作室门外的自行车车篮中放置一束鲜花,直至我恢复自由旅行的权利。第600天,2015年7月22日。 https://t.co/MKgQhV701ghttps://t.co/cE2amSLClc

— 艾未未 Ai Weiwei (@aiww) July 22, 2015