History marches on but major barriers remain between US and Cuba
Comments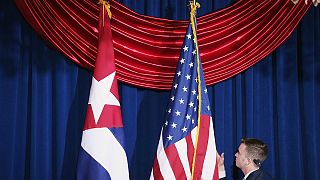 History marches on. For the first time in 54 years, the Cuban flag was raised over its Washington embassy, as the two countries officially restored ties.It marks a milestone in the diplomatic thaw between the former Cold War era foes.
As the flag was raised a small group chanted 'Cuba Yes, Embargo No' recalling the major barriers that remain between Washington and Havana.
Cuban Foreign Minister Bruno Rodriguez told a press conference in Washington, "I emphasised that the total lifting of the blockade, the return of the illegally occupied territory of Guantanamo, as well as the full respect for Cuban sovereignty and the compensation for people for human and economic damages are crucial to be able towards the normalisation of relations."
US Secretary of State John Kerry responded that:
"At this time, there is no discussion and no intention on our part at this moment to alter the existing lease treaty or other arrangements with respect to the naval station, but we understand that Cuba has strong feelings about it. And I can`t tell you what the future will bring, but for the moment that is not part of the discussion on our side."
In Havana, the US embassy was reopened for business with a little less fanfare. The stars and stripes won't grace the building until an official visit by Secretary of State John Kerry scheduled for August 14.
Fotos del día de la inauguración en 1953. ¿Te has preguntado cómo era la oficina del Embajador de los EE.UU. en Cuba? pic.twitter.com/LBtFMZS5KU

— Embajada EE.UU. Cuba (@USEmbCuba) July 20, 2015
On Twitter the US embassy in Cuba tweeted photos from the building's inauguration in 1953.