Dozens killed in Turkish-Syrian border town blasts
Comments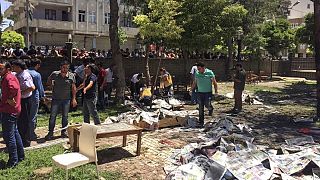 Separate explosions in Turkish and Syrian border towns have killed dozens.
Suruc, Turkey
At least 30 people have been killed in an explosion in the southeastern Turkish town of Suruc, some ten kilometres from the border with Syria.
Turkish officials told Reuters news agency that initial evidence suggested an ISIL suicide attack had caused the blast.
It occurred outside a cultural centre in the town. Pervin Buldan, a senior MP in the pro-Kurdish HDP Party said the incident happened as Turkish and Kurdish youths gathered at the centre ahead of a planned trip to the Syrian town of Kobani. The town was secured by Syrian Kurdish fighters in June following an assault by ISIL militants.
Local officials say they are investigating the possibility it may be a suicide bombing. The Interior Ministry is labelling the incident a "terrorist attack".
It said around a hundred people are being treated in local hospitals and there are concerns the death toll could rise.
Kobani, Syria
Conflicting accounts have been given of an explosion in the Syrian border town of Kobani.
The Syrian Observatory for Human Rights, a group monitoring the civil war in the country, said a car bomb targeted a checkpoint controlled by the Kurdish YPG militia.
However, a spokesman for the YPG said "explosions" in the town were due to ordnance that had been set off during an operation to clear undetonated devices explosives left behind by ISIL militants.
No deaths have been reported as a result of the blast.