Zumba fever as Manila breaks world record
Comments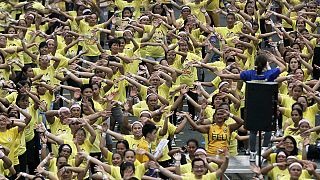 It's officially the largest Zumba class ever held in a single venue.
A suburb of Manila, the capital of the Philippines, now holds the Guinness World record.
Watching officials counted nearly 13,000 participants on the streets of Mandaluyong and made sure they were all dancing throughout the 30-minute session.
"The largest Zumba class, the current record to beat was 8,232. I can tell you today that the city of Mandaluyong got 12, 975, which means they are the new Guinness World record title holder," said Guinness adjudicator Alan Pixley.
"This is a double whammy for us. We have a United Nations Award and now we have a Guinness World Record for a healthy lifestyle," said Mandaluyong City Mayor Benhur Abalos.
The UN award recognised a local government initiative to help underprivileged children.
Zumba is a fitness routine created by a Colombian dancer in the 1990s, involving aerobic exercises and dance choreography.