Italy wins again at World Fencing Championships
Comments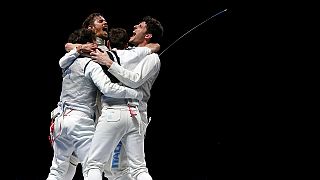 The Italian women's team have won the Fencing World Championships in Moscow by beating Russia 45 to 36.
Italy has dominated the women's event, with this victory their fifth in six editions.
Arianna Errigo, the world champion in 2013 and 2014, along with Elisa di Francesca and Martina Batini were too strong for their opponents who had the support of the home crowd.
Meanwhile, in the men's event Italy won the world team title by beating Russia 45 to 38.
The local team have failed to win a collective title since 1989.
Italy on the other hand have regained the title they won in Budapest in 2013 and lost last year in France.
It wasn't all plain sailing for the Italians though with Artur Akhmatkhuzin taking the lead early on. It was then a game of back and forth but Andrea Baldini sealed the victory for Italy by seeing of Alexei Cheremisinov.