US probes motive behind deadly Tennessee shooting rampage
Comments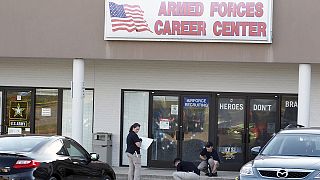 With the United States in shock, investigators are trying to establish whether a gunman who shot four US Marines dead in Tennessee
on Thursday was inspired by ISIL or another Islamist terror group.
Reportedly a naturalised American who was born in Kuwait, 24-year-old Mohammod Youssuf Abdulazeez has been identified as the shooter by the FBI.
Twin attacks in Chattanooga at a military recruitment centre and a Naval Reserve Centre also left several people injured. The gunman was shot dead amid a firefight with police.
As security forces swooped on what is thought to have been Abdulazeez's home in an upmarket suburb, local media reported that at least two women were led away in handcuffs.
The SITE Intelligence Group, which tracks extremist groups, said that Abdulazeez blogged on Monday that "life is short and bitter" and that Muslims should not miss an opportunity to "submit to Allah".
Chattanoogans mourn at vigil after #ChattanoogaShooting attack: http://t.co/umEh17rEpwpic.twitter.com/7BEWsWmpEs

— The Tennessean (@Tennessean) 17 Juillet 2015
The New York Times, citing unnamed law enforcement officials, reported that his father had been under investigation several years ago over possible ties to a foreign terrorist organisation and had been on a terrorist watch list.
The father was later removed from that list and the investigation did not reveal any information about his son, the Times said.
The attack comes at a time when US military and law enforcement authorities are increasingly concerned about the threat posed by "lone wolves" to domestic targets.
ISIL had threatened to step up violence in the holy fasting month of Ramadan, which ends this evening.
President Barack Obama offered his condolences to the victims' families and said officials will be prompt and thorough in getting answers on the shootings.
"It is a heartbreaking circumstance for these individuals who have served our country with great valour to be killed in this fashion," he said in a statement from the Oval Office.
"We condemn this horrific attack in the strongest terms possible," said Nihad Awad, national director of the Council on American-Islamic Relations.
There have been other attacks on US military personnel in the United States.
In 2009, former US Army major Nidal Hasan fatally shot 13 people at Fort Hood in Texas. He said he targeted unarmed soldiers preparing for deployment in retaliation for US wars in the Muslim world.
And in May, two gunmen opened fire with assault rifles at a heavily- guarded Texas exhibit of caricatures of the Prophet Mohammad. Both men were shot dead by responding authorities.