#Merkelstrokes: the German Chancellor is confronted by a crying refugee
Comments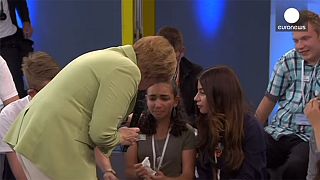 The Twittersphere has lit up with criticism of Germany's Chancellor after she was confronted on television by a young refugee whose family had been threatened with deportation. The hashtag #Merkelstreichelt (Merkel strokes) began trending on social media shortly after the interview appeared.
1. #merkelstreichelt 2. #AskLaila 3. Emmy 4. #Raees 5. #MoBuTwitter 2015/7/16 19:58 CEST#trndnlhttp://t.co/p8qpEIM5hj

— Trends Deutschland (@trendinaliaDE) July 16, 2015
"Wait, my politics have human consequences? I'm overstrained." (Chancellor of Europe's largest economy) #merkelstreichelt#merkelstrokes

— Lukas Wilhelmi (@LukasWilhelmi) julio 16, 2015
Speaking in fluent German, the Palestinian girl, whose name is Reem, told Angela Merkel they had been waiting four years for permanent residency after arriving from a refugee camp in Lebanon: "We have had a hard time recently because we were about to be deported. I felt really terrible and at school as well, something the teachers and the other students noticed as well."
Pointing out that "politics can be tough", Angela Merkel explained her position: "You know, in Palestinian refugee camps, in Lebanon, there are thousands and thousands of people and if we say they can all come and they can all come from Africa, we can't manage that. So we are caught in this difficulty and the best thing we can do is avoid taking too long to reach a decision about deportation. But some will have to go back." The German Chancellor then goes to comfort the girl, who is in tears.
Watch the full video here
Berlin says it expects 400,000 asylum applications by the end of 2015, more than double the amount it received in 2014.Domestically, there are growing calls for tighter controls on immigration.