Greece needs the EU's help with the migrant crisis on its doorstep
Comments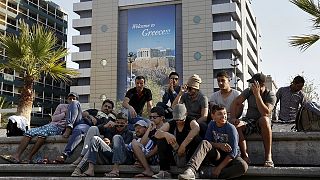 The waterfront along the Greek island of Lesvos presents a idyllic view.
But behind the restaurants and hotels, hundreds of migrants are living in increasingly squalid conditions.
Every day, up to 700 migrants slip in on boats, or are rescued by the Greek coast guard.
Most are from Syria and Afghanistan. Many include women and small children.
Up to 10,000 of them have been unable to get the documents needed to move onto another country.
They're stuck here in one of two detention centers, which were designed to house only a fraction of that number.
Actor davemorrissey64</a> has been helping with the refugee crisis in Greece - and is calling on Europe to act: <a href="http://t.co/PQxsJDXfBo">http://t.co/PQxsJDXfBo</a></p>&mdash; Flora Drury (floradrury) July 16, 2015
Ahmad says he escaped from death in Syria, and then from death at sea, only to find death in the camp.
"We escaped from death to death. We find death each step of the way. We ran away from death in our country only to find death in the sea, and from there were find death here in the camp," he said.
Mohammed escaped from the Syrian town of Raqqa which is under the control of ISIL.
"I want to go to Germany because what I've heard from people is that they are going to respect me there," he said. "I don't need their money. I don't need their bread. I don't need need meat. I don't need nothing. I need my kids to do to school. That's what I need."
The town's officials also feel abandoned.
The mayor of Levsos compares the situation to a ticking time bomb. He says the island simply doesn't have the infrastructure or the funds to help. The capital controls imposed because of the country's financial problems have made the situation even worse.
International aid groups are sending personnel to help.
But for now, all that officials and the stranded migrants can do.. is wait.