'Imposed' bailout deal must be implemented, says Greek PM
Comments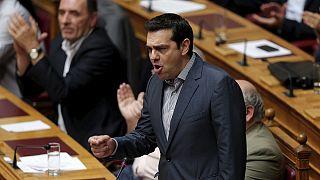 As the Greek parliament debates a painful austerity package and reform legislation ahead of a crucial vote by lawmakers, prime minister Alexis Tsipras is defending the bailout deal he says was "imposed" on Greece at this week's emergency eurozone summit .. even though he says he does not believe in it.
"I am fully assuming my responsibilities, for mistakes and for oversights, and for signing an agreement that I do not believe in, but I am obliged to implement [it] and I won't escape my responsibilities," said Tsipras speaking on Greek television.
The prime minister used the live televised interview to fire a shot back at the EU paymasters.
"There was a vindictive attitude displayed by our partners regarding our decision to ask the people's opinion in a referendum," said Tsipras.
Follow our live updates