Russians on top at World Fencing Championships
Comments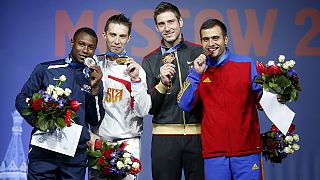 The home fans had lots to scream and shout about when sabres on the opening night at the World Fencing Championships in Moscow.
Alexei Yakimenko grabbed gold in the men's individual event after convincingly beating America's Daryl Homer by 15 touches to 5.
Yakimenko is the third Russian in three years to become world champion in the event. And his achievement was matched by his compatriot in the women's individual sabre.
Sofia Velikaya edged out her French rival Cécilia Berder by par 15 touches to 12.
A double victory for Russia and a special night of celebration for Velikaya was was crowned European champion in Montreux a month ago.
But there was no fairy tale ending for the Ukrainian two-time world champion. Olga Kharlan failed to qualify from the quarter final.