Far right group challenges Ukraine's government after gun battle.
Comments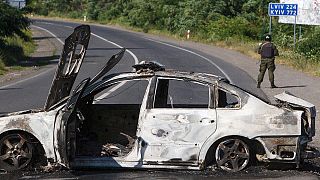 A Ukrainian far right group has demanded the resignation of the county's interior minister
while blocking roads around Kyiv in a protest following a fatal gun battle.
Dozens of supporters of Right Sector are calling for more demonstrations to be held across the county.
On Saturday two ultra-nationalists were killed in a shootout with police in the western town of Mukacheve.
The cause of the violence is unclear, Red Sector claims its members were set upon by local police.
Officials suggest the violence was a turf war between groups keen to control smuggling routes to neighbouring Hungary and Romania.
At least six police officers were wounded in the incident.
Kyiv has called on Red Sector, which played a prominent role in protests that toppled Moscow-backed President Viktor Yanukovych a year ago, to lay down their weapons.
Red Sector has so far refused and the two sides are locked in a standoff. Kyiv has sent more police to the town ordering them to arrest those responsible for the shooting.