'Listen to us', Greeks appeal to eurozone leaders
Comments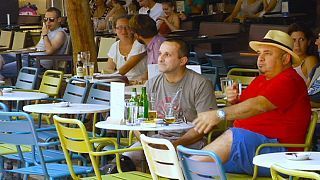 More than used to the uncertainty, Greeks out and about in Athens on Sunday calmly awaited news from Brussels that could determine the country's future.
In cafés and restaurants in Monastiraki, Plaka and Thiseio, euronews asked people: "If you were in the Eurogroup meeting or at the eurozone summit, what would be your argument for Greece?".
Several replied that they thought Greece needed one more chance, their message to Europe's leaders being "at least listen to us".
But they fear that the priority for Europe's leaders may be the future of the eurozone as a whole – meaning their voice isn't being heard.
One man however put the blame at Athens' door.
"At some point they (the creditors) are right, because we did not tell the whole truth, we said we had taken measures, but we hadn't," he said.
"My message to them would be to remind them about history. In 1953, they did a haircut on Germany's debt of about 70 percent or 80 percent, if I remember correctly. That's exactly what I would say to them," another man said.
A woman was dismissive of the eurozone leaders' motives: "I would tell them to look calmly at the events and situation in Greece, because we're really not living well. They just want 'our blood', I am sorry," she said.
According to opinion polls Greeks are afraid of being kicked out of the eurozone and aware that painful reforms are the price for staying in.
A total of 84 percent of Greeks want to keep the euro, with just 12 percent favouring a return to the drachma, an opinion poll showed on last Friday.
The poll by Metron Analysis for Parapolitika newspaper showed that although the overwhelming majority of those polled wanted to remain in the single currency, 55 percent said it had been the right choice to vote "No" to tough austerity measures in last weekend's referendum.
That was also the analysis of the Greek Prime Minister Alexis Tsipras after the vote.
Greeks recognise the mistakes of the past, but they are asking their European partners for another chance.