I'll do it my way says Barcelona new signing Arda Turan
Comments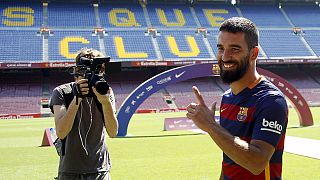 Barcelona summer signing Arda Turan was unveiled to supporters and reporters and stressed he did not want to be compared to club legend Xavi.
Turkey captain Turan joined Barca this week after four seasons at Atletico Madrid to replace Xavi after the highly decorated Spaniard's departure for Qatar. With Xavi last season Barca captured the treble of Champions League, La Liga title and the Cup.
"No-one is able to replace Xavi because he was a great player. He was not only a legend in Barcelona, but for all football lovers around the world. I'm a different player and I have a different style. I'm here to do my best and contribute to the team but not as much as Xavi. I'm going to try hard and be loved by football supporters," Turan told reporters.
The 28-year-old midfield play maker says he received a number of tempting offers but he will not be able to make his debut for the Catalan outfit until January.
That's because of a FIFA ban on the club registering new players after it breached regulations on transferring foreign under-18-year-olds.