Syrian refugees now four million, displaced approach eight million
Comments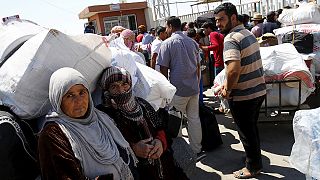 There are now more than four million officially recognised refugees from the Syrian conflict. The United Nations and other agencies are operating with only around one quarter of the funds needed to pay for humanitarian help.
More than 1.8 million Syrians are sheltering in their largest neighbouring country, Turkey, in tiny Lebanon, more than 1.1 million. Half that again in Jordan. Iraq, Egypt and countries in Northern Africa together harbour around half a million.
Although Turkey has more than any other country, and it has built substantial quarters for them, only around 280,000 refugees are housed in its 25 camps. This is Öncüpinar, near Kilis, in southern Turkey. Another one, to hold 55,000 more, is under construction nearby.
One out of every four people now living in Lebanon is a refugee from Syria. The government suspended registration of new refugees in May. New Syrian arrivals now need a visa to get in. The UN says the conditions of more than half of Lebanon's refugees are sub-standard.
Of Jordan's more than 600,000, the UNHCR says nearly nine tenths are living on less than three euros per day. The refugee agency has spoken out against child labour, begging and marrying children off — consequences of poverty. These are the people who escape Syria.
The UN estimates there are 7,600,000 displaced people within Syria. Some 270,000 have applied for asylum in Europe.
The number one host country for Syrians outside the Middle East is Sweden. This is the most desirable destination. The European Union member states have committed to taking in 60,000 refugees this year, of which 40,000 will be Syrians and Eritreans.