Greece: optimism and pessimism jostle for place
Comments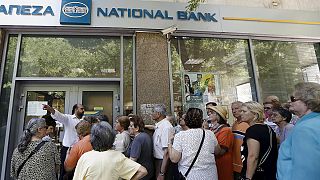 While the politicians talk, life for ordinary Greek citizens gets more challenging by the day. Queues at cash machines are the new reality on the streets, as customers struggle to get what they can. Some banks have been opening to allow pensioners without bankcards to withdraw money.
The queues at the cash machines in Greece #athens#greecestagram#greecebailout#greece by… http://t.co/is4YgZX2C4pic.twitter.com/oYcqVA8MJs

— Pics from Athens (@AthensInsta) 2 Juillet 2015
A withdrawal limit of 60 euros a day is still in place. The mood is gloomy: "I'm afraid," one woman told reporters,"I'm afraid about what will happen if we don't get an agreement. I am afraid. I hope we will find a solution."
Others are worried about the political consequences of a Grexit: "I can't imagine what it will be like if we are isolated from the rest of Europe," said one man, "it would be a tragedy."
Many, like this bank customer, are divided:"I want to stay in the Eurozone, but not on these terms that have brought people to the brink." he told waiting reporters. "Why stay in when it is so hard to get by, when there is not enough even to get through the day, when there is not enough money to live on? Being out is bad but so is staying in. They are both as bad as each other."
Odd on Greece quitting the Eurozone in 2015 now at 13/8 with William Hill

— Naomi Kerbel (@NaomiKerbel) 9 Juillet 2015
Bookmakers say the chances of Greece leaving the eurozone this year have fallen ahead of this weekend's talks. Despite the optimism from on high, pessimism persists below.