BRICS group of emerging economies launch development bank
Comments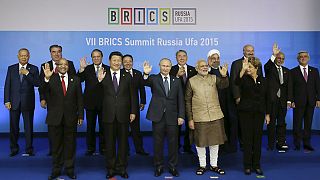 Countries attending a two-day summit in Russia for the world's emerging economies, known as BRICS, have launched their biggest initiative to date: a development bank and a currency pool.
Russian president Vladimir Putin, who is hosting the meeting, encouraged the expansion of trade among the BRICS — Brazil, Russia, India, China and South Africa.
"We are worried about the situation in the markets, the high volatility of energy prices and raw material commodities, and the accumulation of sovereign debt by some big countries," said Putin. "In these circumstances, the countries of BRICS have to more actively enable their own resources and internal reserves."
Chinese President Xi Jinping said there were difficulties in the global economy but urged BRICS to build a great partnership.
"The BRICS countries have abundant natural and human resources and large domestic markets, a high potential for development and political influence," Mr. Xi said.
The BRICS account for a fifth of the world's economic output and 40 percent of its population.
The group's New Development Bank will finance joint, large-scale projects from next year.