USA continue World Cup winning celebrations
Comments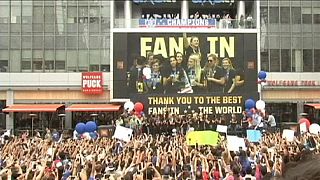 Hundreds of flag-waving supporters turned out in downtown Los Angeles to help celebrate with the US women's national team their latest World Cup triumph.
The Stars and Stripes thrashed Japan 5-2 in the final across the border in Vancouver to win a record third World Cup crown and first since 1999.
Captain Carli Lloyd inspired her team to success with a stunning 13 minute first half hat-trick while Lauren Holiday and Tobin Heath completed the rout.
The team will be touring different parts of the country as they continue their world cup winning celebrations:
They next travel to New York on Friday, July 10.