The buzz about the business of government surveillance - after the Hacking Team hack
Comments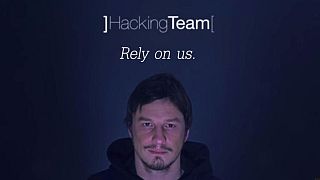 An Italian company called Hacking Team that specialises in producing surveillance software used by governments to tap into phone and computers has itself been hacked, according to reports.
400GB of the company's internal documents were published online. That's the equivalent of more than 570 CDs worth of data.
Here is some of the buzz that we have learned about the business of bugging:
Mexico is the company's main client, followed by Italy, Morocco and Saudi Arabia.
#HackingTeam revenues per country. Over €3 million and you get coloured in green. pic.twitter.com/uKbqTflUqw

— Richard Tynan (@richietynan) julio 6, 2015
The full list of alleged Hacking Team customers, according to Privacy International is as follows: Egypt, Ethiopia, Morocco, Nigeria, Sudan, Chile, Colombia, Ecuador, Honduras, Mexico, Panama, the United States, Azerbaijan, Kazakhstan, Malaysia, Mongolia, Singapore, South Korea, Thailand, Uzbekistan, Vietnam, Australia, Cyprus, the Czech Republic, Germany, Hungary, Italy, Luxembourg, Poland, Russia, Spain, Switzerland, Bahrain, Oman, Saudi Arabia, and the

UAE

.
"Reporters Without Borders" lists the company on its "Enemies of the Internet" index, due mainly to Hacking Team's business practices and their primary surveillance tool, Da Vinci.
They target "activist groups" like Human Rights Watch or The Citizen Lab, according to the "whistleblower friendly" online magazine "The Intercept".
The activist groups on Hacking Team's enemies list: pic.twitter.com/AEJnQcA7rM

— Ryan Gallagher (@rj_gallagher) julio 7, 2015
Abour their Galileo Remote Control System they say: "RCS is a solution designed to evade encryption by means of an agent directly installed on the monitored device. Evidence collection on monitored devices is by stealth and transmission of collected data from the device to the RCS server is encrypted and 'untraceable'".
On Twitter, they use news of cyber-security breaches to demonstrate how necessary surveillance programmes are.
Chinese #hackers target US Gov't. but also business #Defense is not enough. Online #surveillance essential. http://t.co/ze0wirX6hS

— HackingTeam (@hackingteam) junio 8, 2015
She explains her position on her blog.
Hungary has been a client since 2008
According to the company register, two branches of the Hungarian Secret Service have paid for hacking services; the National Security Service (NSC) from 2000 and the Information Office (IH) from 2008. Their full contracts have been posted on the internet. Hungary (as well as Singapore) is the firm's third-longest running client, with only Italy (2004) and Spain (2006) preceding it.
In total, the two services paid 1, 896000 euros to "The Hacking Team", making Hungary its sixth-biggest client.