Gerrard officially presented at LA Galaxy
Comments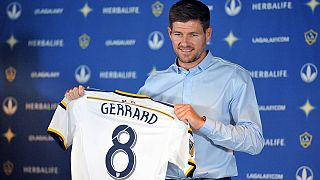 Steven Gerrard was officially presented at his new club LA Galaxy on Tuesday.
Although the former Liverpool captain was presented to the press this week he was introduced to the Galaxy fans at half-time during his side's 4-0 win over Toronto on Saturday.
The ex-England skipper said he was raring to go but needed time to adjust to his new team and vice versa.
He said: "I think there will be a few minor stops and starts and a few tweaks, the players have to get used to me the way that I play. I have to adapt the way the team plays and how certain individuals play. It will take a small amount of time for the manager to get used to me and me get used to the manager and the staff. But, I adapt pretty quickly and I've been around the game for a long time and I'm pretty experienced. So, I think that transition will happen very quickly".
The 35-year-old, who will wear the number eight shirt, has joined the Galaxy after spending his entire professional career, 17 seasons, with Liverpool.
He kicks off his Galaxy career with a friendly clash against Mexican Club America in the International Champions Cup on Sunday.