London remembers: 10 years on after 7/7 bombings
Comments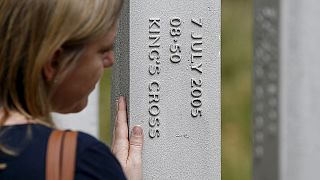 The 52 victims: along with survivors and their families will be in the hearts and minds of Londoners and the rest of the UK today as the city marks the 10th anniversary of the July 7 2005 terrorist bombings.
Multi faith commemorations will be held at St Paul's Cathedral attended by the Prime Minister David Cameron along with a service at the Hyde Park memorial where Prince William will join them.
Survivor Gill Hicks lost both her legs in one of the three bomb blasts on underground trains:
"How is the taking of my legs, and more importantly, how is the taking of innocent lives, ever going to further anybody's cause? I see no outcome from the terrible tragedy that we saw here in London 10 years ago, and indeed continue to see throughout the world."
Fireman Stavros Marangos who went to help at the bus bombing in Tavistock Square relives the horror of what he saw that day:
"It was like a scene from a war film. There were unidentifiable body parts strewn all over the place, there was (were) tarpaulins covering up deceased people. I was only two months out of training centre at Southwark, and we witnessed this carnage."
Ten years ago four suicide bombers blew themselves up on London's public transport network.
The bombers – three of whom were British born, the fourth was born in Jamaica all died in the attacks.
Our Rector's jvalentine63</a> reflections on the day of the 7/7 bombings. Powerful and moving. <a href="http://t.co/zU7qGAfSbl">http://t.co/zU7qGAfSbl</a></p>&mdash; Katharine W-R (kwelbyroberts) July 6, 2015