Turkish fury as minority Muslims 'banned from fasting' in China
Comments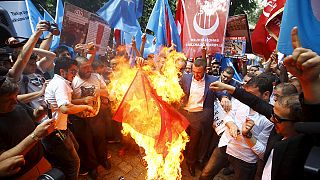 Protesters in Istanbul have burned Chinese flags and demonstrated against what they claim is the religious suppression of minority Uighur Muslims by authorities in China's Xinjiang province.
Turkish media has reported that the minority group there have been banned from fasting and worship during the holy month of Ramadan.
Beijing says Uighur Muslims enjoy freedom of religion.
Protesters marched to the Chinese consulate in Istanbul carrying flags and banners and chanting anti-China slogans outside the building.
Many Turks see themselves as sharing religious and cultural ties with Uighurs.
Last week, Turkey vowed to keep its doors open to Uighur migrants fleeing persecution in China.
Beijing has warned its citizens travelling in Turkey that some Chinese tourists have been attacked.