Solidarity rallies in Lisbon and Istanbul in support of Greek 'no' vote
Comments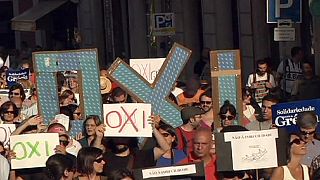 As Greeks prepared for Sunday's referendum, solidarity came from protesters in several other European cities.
In Portugal, which has had its own international bailout, hundreds of demonstrators marched through the capital Lisbon in support of those planning to vote 'no'.
Protester Maria Duarte said: "(I'm here) to show solidarity with the Greek people for having the courage that we did not. I hope we might get it but maybe we will never will."
Over the past two days, similar marches have taken place in the UK, Italy, Germany and Turkey – where about 200 people, made of up left-wing groups, chanted "Istanbul is with you".
In Istanbul, they marched to the Greek Consulate holding 'no' placards.
Turkish protester Irfan Kaygisiz said: "Imperialist institutions and countries in Europe are imposing limits because of Greece's economic crisis. They want to reduce people's savings and their public and social rights."
With many countries also facing deep austerity, protesters said they saw Greece as offering hope for their own anti-establishment movements.