Ulaanbaatar Judo Grand Prix visitors impress in Mongolia
Comments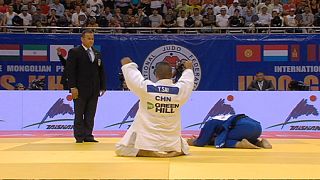 On the second day at the Ulaanbaatar Judo Grand Prix, the home crowd got just what they wanted in the women's final of the -63kg class when Tsend Ayush Tserennadmid defeated the junior world champion Minei Miho of Japan, a waza-ari gave the Mongolian the only score of the contest.
TSEND-AYUSH Tserennadmid (MGL) -63 Kg Route to Fi…: http://t.co/r8YVbDTEZw

— BUKHBAT Mashbat (@_bukhbat) July 4, 2015
In the -70kg class Bernadette Graf of Austria took the gold medal as she continues to climb the world rankings.
Graf defeated the Chinese judoka Zhou Chao
claiming ippon just 12 seconds before the end of the bout.
In men's -73kg competition Sai Yinjirigala from China shocked the Monglian capital by defeating home favourite Nyam-Ochir Sainjargal with a magnificent ippon.
Judo Grand-Prix Ulaanbaatar 2015 - results - day 2 - http://t.co/BLP8nFSv6npic.twitter.com/ibt2nsJZYK

— megabigsport (@megabigsport) July 4, 2015
In the men's -81kg category Canada's Antoine Valois-Fortier has a difficult time against the Hungarian Atitlla Ungvari, but like all great champions he had the ability to win without being at his best, claiming victory on shido penalties.

Superbes photos! :) @antoine_vfhttp://t.co/w1QVpxco3Apic.twitter.com/fWUeY8I3By

— Judo Québec (@judoquebec2015) February 14, 2015