WikiLeaks: France says 'Non' to Assange asylum request
Comments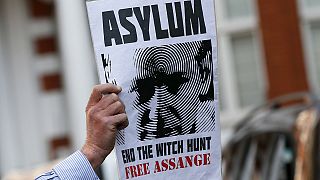 An asylum plea from Julian Assange has been rejected by France.
"My life is in danger," the WikiLeaks founder wrote in Le Monde newspaper on Friday.
"France is the only country that can offer me the necessary protection against … the political persecutions I face."
But there was a swift 'Non' from President Hollande's administration, in a statement.
"The situation of Mr. Assange does not present any immediate danger. He is also the target of a European arrest warrant," it noted.
For three years Assange has lived in Ecuador's embassy in London, taking refuge to avoid
extradition to Sweden over alleged sex crimes he denies.
Assange fears Sweden could then extradite him to the US, where he could face trial over WikiLeaks' publication of classified texts.
The site last week revealed documents it said showed the US National Security Agency had snooped on the last three French presidents, prompting President Hollande to complain to Barack Obama about what he called "unacceptable" NSA spying.
WikiLeaks has tweeted a denial that Julian Assange was really asking for asylum from France.
Media note: Assange did not submit an asylum application to France. He published an open letter in Le Monde to Hollande and the public.

— WikiLeaks (@wikileaks) 3 Juillet 2015
The site's publication of classified military and diplomatic documents five years ago infuriated Washington and, critics say, damaged US security and put lives at risk.
Its supporters say it exposed government secrets that the public had a right to know.