Ulaanbaatar Judo Grand Prix: Home judoka's dominate day one
Comments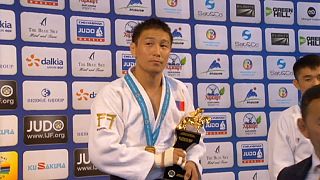 Five gold medals were up for grabs on day one of the Ulaanbaatar Judo Grand Prix in Mongolia.
The home nation dominated proceedings at the penultimate Grand Prix before August's World Championships.
Amartuvshin Dashdavaa led a Mongolian clean sweep of the medals in the -60kg category beating World champion Boldbaatar Ganbat in the final.
The home crowd were again celebrating a gold when World Judo Masters bronze medallist Tumurkhuleg Davaadorj finally topped the -66 kilo podium at his home Grand Prix.
He defeated 17-year-old wonderkid Hifumi Abe of Japan.
Three-time European bronze medallist Laetitia Payet celebrated success in the -48 kilo division.
In the final the French Judoka defeated 18-year-old Asian Championships bronze medallist -Korean Yujeong Kang who was making her first appearance in a World Tour final.
Day one didn't all go in Mongolia's favour Tokyo Grand Slam bronze medallist Ai Shishime of Japan reigned supreme in the -52 kilo class beating Tsolmon Adiyasambuu.
Shishime took top spot on the podium having squeezed the gold out of her opponent.
The home crowd were back on their feet following the women's -57kg final.
Two-time World Judo Masters winner and the tournament's poster girl Sumiya Dorjsuren celebrated her second straight IJF World Judo Tour victory when she beat Helene Receveux of France.