UK observes minute's silence for 30 Britons killed in Tunisia terror attack
Comments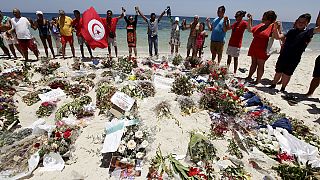 It is the UK's worst loss of life in a terror attack in a decade.
And as Big Ben chimed at noon on Friday, millions nationwide – led by Queen Elizabeth herself – observed a minute's silence to pay tribute to the 30 Britons killed a week earlier by an Islamist gunman in Tunisia.
The Queen and The Duke of Edinburgh observe a minute's silence @UniStrathclyde#Tunisiapic.twitter.com/wYnQEeHFlW

— BritishMonarchy (@BritishMonarchy) 3 Juillet 2015
Flags on government buildings, UK embassies around the world and at Buckingham Palace in London flew at half mast.
Organisers at the Wimbledon tennis tournament delayed the start of play to allow spectators and those in the grounds to pay their respects, while other sporting events including the British Grand Prix also marked the day.
Victims' bodies continue to be repatriated to home soil where inquests have begun.
At the beach in Sousse where the tourists' blood was spilled, Britain's ambassador Hamish Cowell was among those honouring all 38 victims of last week's massacre, laying a wreath at the site.
"I think we all live under the threat of terrorism now and I think the 'lone wolf' syndrome, we have seen it elsewhere, not just in Tunisia," he said.
"But of course that is why we are here, working with the Tunisians, to try to make sure that we have the best security possible and I know there is a great commitment from the Tunisians to ensure that they have security in place."
Tight security was in evidence as holidaymakers in Sousse joined dignitaries to remember those who had shared the sands with them – those whose holiday dreams had turned to the worst imaginable nightmare.
The ISIL militant group has claimed responsibility for the attack.
Last Friday's massacre saw the highest number of Britons killed in a militant incident since four young British Muslims carried out suicide bomb attacks on London's transport network on July 7, 2005, killing themselves and 52 others.