Greek court rejects appeal to block bailout vote
Comments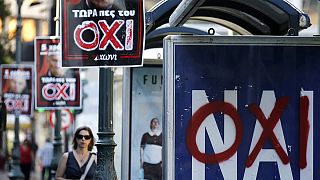 Greece's highest court has rejected an appeal against a referendum on a bailout package from creditors, clearing the way for the vote to be held as scheduled on Sunday (July 5).
"Rejected," said Nikolaos Sakellariou, the presiding judge in Greece's Council of State court. "The referendum will be held."
Two Greek citizens had asked the court to to suspend Sunday's referendum because, they said, it is unconstitutional and illegal, and argued the question is too complex, the constitution bars questions about fiscal policy, and it was organised at too short notice.
A separate group had filed a counter-motion supporting the referendum's legality. It claimed the administrative court has no jurisdiction over "government actions."
It all adds to the confusion that many voters feel about what exactly is at stake.
"I understand in general, but the question is not clear because we don't know the consequences of voting "no" and we don't know if this means getting out of the eurozone," said voter Yanis Koutzouvelis. "I mean, I don't know if 'Yes' or 'No' is in reference to [Greece going back] to the drachma [former Greek currency] or not."
Voters will decide whether to accept creditors' demands for more austerity in exchange for more bailout loans.
Opposition parties, and many European officials, say a "no" vote would drive Greece out of the euro and into an even more impoverished future.
Greek referendum poll puts no vote at 43%, yes 42.5% and 9% undecided (AVGI newspaper) #Greece#referendumpic.twitter.com/C5PGsnSosg

— euronews (@euronews) July 3, 2015