ISIL affiliate claims rocket attack on Israel
Comments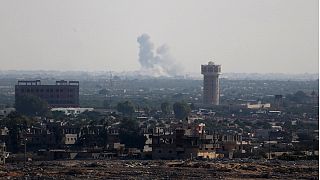 ISIL-linked militants claimed they launched three rockets towards southern Israel from Sinai on Friday.
Mobile phone footage showed an Israeli police officer digging the remains of a missile out of the ground.
Israel's military said two missiles landed in its territory and there had been no casualties.
Also on Friday, Egypt's military released footage showing it striking back against jihadist positions in north Sinai, after Islamist militants carried out the deadliest attacks in the peninsula in years.
The army said it responded to the surprise assault with Apache helicopters and other heavy weaponry.
Wednesday's violence saw at least 100 militants and 17 Egyptian soldiers killed in Sinai, which borders Israel, the Gaza Strip and the Suez Canal.
The escalation of violence is worrying Israel, which says the militant group Hamas, which rules Gaza, is aiding ISIL-linked militants in Sinai – a charge Hamas denies.