Saakashvili warns of Odessa region's importance to Ukraine
Comments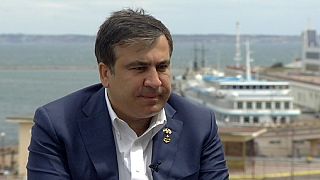 Mikheil Saakashvili was appointed governor of Ukraine's Odessa region in February, to fight corruption. The former Georgian president might even be considered for higher office. We talked to him in the major Black Sea port city.
Sergio Cantone, euronews: "Many people in Ukraine are asking why did Saakashvili become the governor of Odessa when there are so many things to do against corruption in Kyiv?"
Mikheil Saakashvili, Governor of Ukraine's Odessa region: "Odessa is strategically amazingly important, both for Ukraine, but unfortunately also for the country that invaded Ukraine: Russia. And the problem here is that Putin's vision of his project, 'Novorossiya', includes Odessa as his linchpin. So, first of all we need to safeguard and make sure that Odessa stands, that it doesn't fall. Because if this region falls, then I think Ukraine will be in major trouble and the whole region might go, not only Ukraine but all the Black Sea, Caucasus and the others. That's why we need to safeguard Odessa. And second: the way to safeguard is also to develop it. And so we need to do things here."
euronews: "There are two problems here. One is that there are a lot of pro-Russian people in this region, a huge number, and secondly a huge problem with corruption and with crime related to the sea port. What are your projects in order to crack down on these huge problems that sometimes, maybe, are also connected?"
Saakashvili: "I don't think that Odessa is by itself pro-Russian. I think what is true here is that they speak Russian, they have Russian cultural heritage. This is true, and this is not a weakness, this is a great strength. Odessa is a major international brand. It's also a very important thing both for the Ukrainian and Russian cultures, their histories, and I think that's something we should capitalize on.
"Now, with regard to corruption, yes it's a major issue. This very sea port, this customs [post] that is here, which makes one of the biggest ports on the Black Sea and basically the biggest of Ukraine. It is a major centre also for all kind of smuggling, trafficking; our estimate is that annually something between 500 million and one billion euros is being diverted from the state budget, that's to say stolen by corrupt officials, by customs officers, by law enforcement, and of course it is also related to crime."
euronews: "It's true that there are some oligarch regime people who are being fired. But it's also true that, for instance, the former head of the SBU, of the Security Service of Ukraine, Valentyn Nalyvaichenko, was fired. Many Ukrainians didn't understand why, because they think that he was doing quite a good job and they are afraid that he was fired for not clear reasons. Why?"
Saakashvili: "Look, just before he was fired, Nalyvaichenko told me, 'I am sending you an SBU group to reinforce you in fighting the corruption in the customs.' I can tell you, I said, publicly, 'I don't want that group to come here', because more SBU means more corruption; the problem is here, and it was a problem until now, that the main smuggling is not even done by the customs or by professional smugglers, it is done by the Ukrainian Security Service, it's done by elements of the prosecutor's office, it was traditionally done by the police. The whole drug trafficking of the city is controlled by the police. The problem is that law enforcement is not the solution. At this stage, law enforcement is a problem in itself."
euronews: "In order to crack down on crime it is very important to have a strong security service. So you don't trust the security service of Ukraine."
Saakashvili: "At this stage, there is a big problem of trust. However, in August we will have a new patrol police in Odessa, which is totally like almost 100 per cent new people, like recruited from scratch. They are getting now proper training, they will get proper salaries. We have a new head of police. I ordered him to shut down smuggling from Transdnistria.
"That is very important because most of the criminals and smuggling come now from Transdnistria and the area not controlled by Moldova, and it is a black hole of Europe. We are now recruiting new people for the police and we will make sure that they will have new salaries. We are recruiting new people for the customs. We are recruiting new people for the tax services. We need to give them higher salaries. And there are lots of volunteers in Ukraine. This place has amazing potential."
euronews: "You are mentioning these groups which were controlling this Oblast, this part of Ukraine, the region of Odessa. Do you think there is a direct connection between Transdnistria, these groups and Moscow?"
Saakashvili: "Well, certainly the last main potential base for Russian intrusion here is corruption and illegal and illicit activities, because, you know, it's basically what Putin calls the 'Russian world'. Their real soft power is corruption and criminal ties. Indeed, most of the criminal gangs, most of the organised crime people whom we know, many of them might be from Georgia, by the way, here, but they have always, traditionally, had their ties with the Russian mafia and with the authorities in Moscow. That's a very well known and well documented fact."
euronews: "Before you mentioned the importance, as an asset, as a cultural asset, of the Russian speaking population of this region. But don't you think that the Kyiv government made some mistakes and alienated the consensus of the Russian-speaking population of Ukraine, as a whole, and of course also of this region?"
Saakashvili: "Obviously, especially immediately in the aftermath of Maidan, some mistakes were made. But I think that is changing right now, because people have full awareness that this country is not about ethnicity or just about one language. It certainly has state language and it certainly has clear identity, but that identity is based on multiculturalism, and is based on people speaking different languages."
euronews: "Someone might say that that is what you tried to do in Tbilisi, in Georgia, in your own country of origin, but then something went wrong."
Saakashvili: "No, nothing went wrong. I am very proud of what we achieved in Georgia. Georgian institutions are the strongest right now, most of them, among former Soviet states. Georgia has really built new cities, has really built new landscapes. Tourists went up 60 times, 60 times! On my watch. And that's why people invited me here. If the present Georgian government doesn't like me…"
euronews: "Why? What is the problem with them?"
Saakashvili: "That's the government who changed, and some of them are really revengeful or basically vicious people. But that doesn't change the whole picture. Georgia still has one of the least corrupt institutions in Eastern Europe, one of the safest places still, despite some problems in this region, and still is a place where people want to go, where people want to invest and I think my team has created that. And, of course, teams do change, governments do change, but the main measurement of the reform is if the institutions can survive its creators, then they were successful, and that's the case in Georgia, for sure."
euronews: "Someone told me that Mr Saakashvili wants to become the prime minister of Ukraine. Must [current Prime Minister Arseniy] Yatsenyuk be afraid of you?"
Saakashvili: "Look, there are lots of speculations of course. I am aware of that, but that's what the nature of politics is. The good thing is that I have a real job to do now, I am very much concentrated on it and I love it. Because it's very challenging, but I love challenges, and the more challenging it gets the more excited I get.
"So, there are such a huge number of things to achieve here that I certainly will stick to it for the moment, and for a long time. And, hopefully, in some time we can report a real progress here in Odessa on the ground, and of course I'm willing to work with the government in Kyiv because without meaningful progress also in support of this reform from the government of Kyiv, no real changes can be achieved. We will work with them, certainly we will work with them from this angle."