Greek referendum bid for 'reinforcements' is 'anti-constitutional'
Comments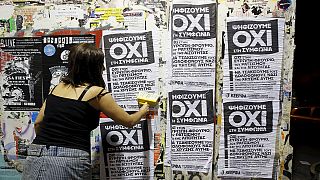 Greek Prime Minister Alexis Tsipras on Wednesday said:
"I take personal responsibility for an immediate solution, right after the democratic process. At the same time, I call on you to reinforce our negotiating effort: I am calling on you to say 'no' to the bailout conditions that are destroying Europe."
On Friday, Tsipras announced a referendum on the conditions attached to international lenders extending Greece more credit.
'Oxi', prominently large on campaign posters, means 'no'.
'Nai', meaning 'yes', applies if Greeks want to accept the offer.
On the vote paper, the 'no' box is on top.
That is the 'simple' part.
The other wording on the paper includes: "Should the plan of agreement be accepted… Reforms for the completion of the current programme and beyond, and Preliminary debt sustainability analysis"?
The referendum was organised swiftly — unconstitutionally swiftly, some critics say. They also argue it is costing far more than the 20 million euros the government says it is.
Political analyst Dimitri Sotiropoulos suggested the government is actually breaking Greek law with this referendum:
"Clearly, article 44 paragraph 2 of the Greek Constitution forbids, for a reason, the launching of a referendum on public finance issues, and this is evident, because we expect that so delicate and complex a matter such as the finances of the state cannot be dealt with a 'yes or no' answer."
The government's expert negotiators have been tackling fine print and huge numbers for five months without securing permission to ease five years of austerity.
Could this referendum be the very thing to convince the other 18 euro countries and Goliath-scale international lending institutions that David — Greece — deserves a break?
Constitutional expert Nikos Skoutaris said:
"Maybe this referendum marks a new period where we will have these kinds of referendums. I remind you that (UK Prime Minister David) Cameron has already committed himself to a referendum like that, so probably we are actually moving to a period of referendums, from Grexit to Brexit, where actually states are going to decide with referendums their relationship with Europe."
The EU project aims to foster unity and prosperity, through democracy and the rule of law in all the member states.
Observers of Greece argue that its unreformed systems' arbitrary nature is what ails it, and that patient and responsible reform will still be needed after a referendum.