Ukraine unveils draft changes to Constitution
Comments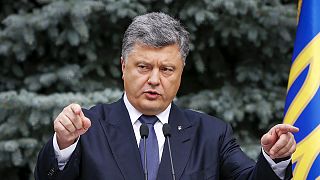 After more than a year of separatist tensions tearing Ukraine apart the country's president has revealed draft amendments to the constitution which he says are in line with the Minsk peace accord.
They're a framework for a decentralised state but stressed President Petro Poroshenko they're not a more towards federalism:
"The draft amendments to the Constitution don't provide any spacial status for Donbass. However, the draft law provides the possibility of a specific procedure for local -self government in individual administrative-territorial units of Donetsk and Luhansk regions. I'd like to emphasise, decentralisation doesn't mean the weakening of central power on such issues as defense, foreign policy, national security, rule of law or observance of human liberties," announced President. Poroshenko.
Separatist rebels in eastern Ukraine have already rejected the amendments who claim they were not consulted and don't go far enough in recognising their demands for more autonomy.
Our reporter Korenyuk Maria who is in Kyiv said :
"President Poroshenko has passed the draft amendments to the Constitution to the Ukrainian Parliament. The MPs are expected to start considering the document in the coming weeks."