Iran deal remains elusive, stretching June 30th 'deadline'
Comments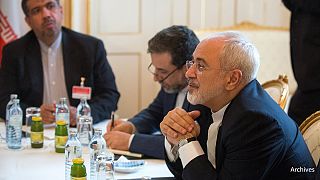 Appearing closer than ever to a positive agreement, the US, Britain, France, Germany, Russia and China have been working intensely with Iran trying to break an impasse for more than a week. Thousands of hours of diplomatic work have spread over 20 months.
Mohammad Javad Zarif, Iran's foreign minister, shuttled back to Tehran on Sunday evening, and then returned to Vienna.
At the start of his meeting with US Secretary of State John Kerry, he said: "I am here to get a final deal and I think we can." That is even though all sides have their red lines.
There have been both full table and bilateral talks. France has appeared as one of the toughest participants. Foreign Minister Laurent Fabius insisted on being able to restore sanctions immediately if Tehran reneged on its obligations under a deal.
"If there is an agreement, there will be a lifting of sanctions, but if the agreement is not implemented, there has to be what we call a snapback mechanism, which automatically will bring back the sanctions."
The US Ambassador to the United Nations Samantha Power said Washington will retain the ability to snap multilateral sanctions back into place without needing Russian or Chinese approval in the UN Security Council.
Key sanctions since 2006 have been covered by UN resolutions, notably handicapping Iran's banks and crippling its oil exports.
The 5+1 powers want Iran to commit to a verifiable halt of at least 10 years. However, Iran's Supreme Leader Ayatollah Ali Khamenei has steadfastly ruled out freezing sensitive nuclear work for a long time.
France in particular insists the limitations on uranium enrichment capacity and research be robust, with rigorous verification systems, including for military sites.
Israel and Gulf Arab states — notably Saudi Arabia — have criticised the emerging agreement as not going far enough to guarantee Iran will not obtain a nuclear bomb.
The country's conservatives reject anything felt as outside interference in what they see as strictly national affairs. Petitioning for a rapid lifting of the sanctions, these Iranian citizens reject regional or international fears that Tehran poses any threat.