Greek banks remain closed, as pensioners queue up to withdraw payouts
Comments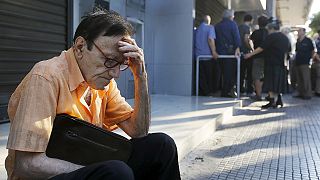 Greek pensioners lined up outside banks desperate to access their monthly payouts.
With banks closed until after a referendum on bailout proposals, cash withdrawals from ATMS have been limited to 60 euros.
Senior citizens payouts were supposed to be exempt from capital controls, but conflicting information has left some frustrated with the government's actions.
"We are waiting for our pensions that we've been working for our whole life," said Veso, a pensioner queuing outside an Athens bank. "And they are fooling us, and we are waiting here like beggars to withdraw our own money, the fruits of our labour. This is what we are waiting for, and they are fooling us, they are keeping us outside, no one has come out to inform us. The TV channels are now saying one thing, and in an hour they say something else, they are driving us crazy, everyone."
"Of course we are worried, I am not so heartless as to not be worried, everyone is worried," remarked Katerina, a pensioner. "But I am expecting even worse to come."
Pensioner holds onto the door of National Bank of Greece hoping to get her pension, next to other pensioners June 29. pic.twitter.com/jmEN2FVT16

— Yannis Behrakis (@yannisBehrakis) June 29, 2015
Despite the breakdown of talks over the weekend, EU officials are continuing efforts to salvage a deal with Athens.
Anti-austerity demonstrators are expected to continue protests outside parliament with a pro-Europe demo scheduled for Tuesday, as the country hurtles towards a default and possible eurozone exit.