Baku European Games: Day 16 Highlights
Comments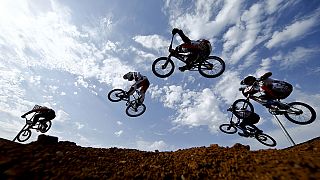 France's Joris Daudet won the men's BMX cycling final on the final day of competition at the Baku European Games by comfortably defeating Twan van Gendt of the Netherlands.
It was Gendt though who was quickest out of the start gate in 2.401 seconds, but by the first corner had lost that lead to Daudet who cycled around the Dutchman on a high line to push out in front as his team mate Sylvain Andre followed closely behind in third position.
Daudet then stormed through the second and third bends to clear the rest of the field and enjoy a comfortable lead going through the last corner, and on the home straight, it was clear Daudet had left his best until last as he easily negotiated the final few hills to consolidate his lead and eventually win the gold in a time of 33.012 seconds.
"It wasn't easy at all today. I had a decent gate but it definitely wasn't my best start. And then I had to go through the first corner inside, but that worked for me today," said Daudet.
"I don't know exactly how I created this gap. I have to see it on TV. I kept myself focused and I didn't make any mistake on the track, I was just riding good.
"It was very difficult today because we only had the semis and the final. Normally we also have motos, like we did on Friday, so you have time to get into the emotion of the race. We had to get focused quickly but it was good."
Silver went to van Gendt who clocked a 33.887, an effort close enough to Daudet to secure a medal but too far behind to challenge for the gold.
"I'm very happy. It's all you can be after such a bad race. But I would have settled for a silver medal beforehand," said van Gendt. "There are so many good riders here, it's actually a European Championships except for the British."
"I was first, but then I bumped into the hill. That cost me speed into the corners and therefore I had to enter the straights too slow. If you are in position one, you have to make sure to stay in position one."
The fight for bronze, however, was as a much closer affair, Swiss rider David Graf only just edging out Andre by 0.186 seconds to claim the last podium spot.
France win double gold
Meanwhile, France dominated the team judo by winning gold in both the men's and women's events over Georgia and Germany respectively.
In the men's team final, France's Loic Korval won his -66 kilogram bout with an ippon over Amiran Papinashvili as team mate Pierre Duprat won the -73 kilogram bout 1-0 with a yuko. France's Loic Pietri won the -81 kilogram bout again with a late yuko.
Iddir Alexandre could then not continue the French winning streak in the -90 kilogram bout as he lost 100-0 to Georgia's Varlam Liparteliani who performed a clean ippon, but then Cyrille Maret's ippon in the +90 kilogram category secured the win for France 4-1.
"It is not difficult at all for me to go first and to set the pace. I know what I want for my team and for my country and for myself. It is a great honour for me to go first and to try to push my team. It boosts me," said Korval.
"We won it on the mental side. We were not the favourites for sure, we had a mediocre championship. But we are a golden team, really, we have the gold medal now."
Maret added: "For me judo is not team sport. It's an individual sport, but when you are in team, at first you should be friends. It is not just team, it's friendship."
In the women's team final, Mareen Kraeh of Germany gave her side the best possible start as she beat France's Annabelle Euraine in the -52 kilogram bout over penalties. That German advantage was quickly lost in the -57 kilogram bout, however, as Laetitia Blot scored three yukos to easily win a point for France.
Clarisse Agbegnenou continued France's fine form with an ippon win in the -63 kilogram bout as did team mate Marie Eve Gahie who won the -70 kilogram bout and Madeleine Maolnga who won the +70 kilogram bout to defeat the Germans 4-1.
"Since I was in the decision-making match it felt very special and that's why I think I found that extra energy and adrenaline to win," said Gahie.
"So that we won't get the pressure of fighting for the last point, I thought: 'I'm going to do this for everybody.'"