Second athlete fails drugs test at Baku European Games
Comments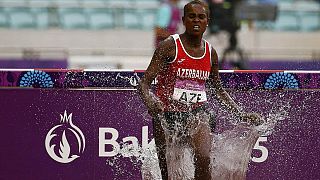 The inaugural European Games in Baku were hit by a second doping case Friday after Chaltu Beji of Azerbaijan failed a drugs test.
The 19-year-old had earlier won the 3,000 metres steeplechase in a time of ten minutes 30.58 seconds but was not awarded a medal as the athletics event at the European Games were only represented at a third-tier level.
Beji's in-competition urine test was sent to a WADA-accredited lab in Moscow, where the "A" sample was found to contain Osterine, an anabolic agent.
Subsequent testing of the "B" sample also showed the presence of the banned substance, meaning that Beji is now suspended from the Games.
Chairman of the EOC Medical Commission, Klaus Steinbach confirmed that the EOC's anti-doping rules are in full compliance with the 2015 WADA code.
Beji's disqualification will not affect the result of the Team Athletics event, however, as sixth placed Azerbaijan was more than 50 points clear of Bosnia and Herzegovina in seventh place, and Beji's win only brought her nation 14 points.
"The EOC will be responsible for conduction over 1,000 doping control tests as part of our comprehensive and robust Baku 2015 European Games anti-doping programme," added Steinbach.
"The EOC is using two WADA-accredited laboratories: Seibersdorf, Austria, and Moscow, Russia.
"Taking the sample and sending it to the lab takes one day. The lab then has a mximum of 48 hours to deliver the result. The procedure has worked effectively and we are very happy with how it has functioned."