Santiago: Clashes during student demo over education reforms
Comments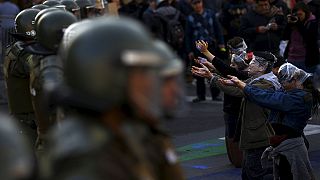 Students have clashed with police in the Chilean capital Santiago during a protest over educational reforms.
They have taken to the streets because they feel changes being brought in by President Michelle Bachelet do not go far enough.
They want students and professors to have more of a say in university operations and for primary schools to be federally controlled.
Bachelet is looking to bolster teacher pay and conditions; bring public schools, now managed and financed by townships, under national jurisdiction; make university education free; and provide additional state funds for poor students.
These promises formed the basis of Bachelet's election manifesto, after student protests four years ago played a major role in ending the conservative government of Sebastian Pinera.