Venezuela opposition leader Leopoldo Lopez ends hunger strike
Comments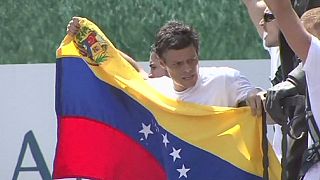 Venezuelan opposition leader Leopoldo Lopez has ended a 30-day hunger strike in jail after one of his key demands was met. A date has been set for this year's parliamentary election, on December 6.
He was imprisoned last year for his role in violent anti-government protests that left more than 40 people dead.
For his supporters he's a political prisoner; President Nicolas Maduro has dismissed him as a criminal.
Lopez sent a message via a letter read out by his wife, Lilian Tintori.
"We began this protest not to die, but so that all Venezuelans can live with dignity. We're lifting the (hunger) strike, but the fight continues," the letter said.
Former San Cristobal mayor Daniel Ceballos, also jailed last year on accusations he fomented protests in his convulsed western Venezuelan city, ended a hunger strike earlier this month.
Lopez's demands also include the release of political prisoners and for international observers to monitor the upcoming elections.
Pressure has continued on the ruling Socialist Party since last year's unrest.
International activists accuse it of suppressing dissent.
President Maduro called the protests a Washington-backed attempt to overthrow his government.