Eurostar: services remain suspended overnight
Comments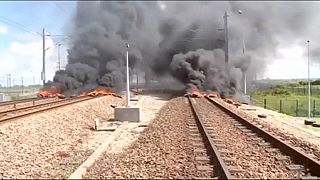 Hundreds of passengers have been left stranded after the tunnel linking France and England closed due to a strike in Calais.
Rail company Eurostar cancelled all passenger trains until Wednesday.
Striking ferry workers swarmed the train line setting tyres alight.
About 50 protesters made it onto the tracks in Calais, forcing operator Eurotunnel to close the tunnel in both directions.
The strike caused traffic tailbacks. Migrants swarmed the vehicles, hoping to sneak on board.
However, they were caught and turned back by police.