Boston Bomber apologises to the victims as he is formally sentenced to death
Comments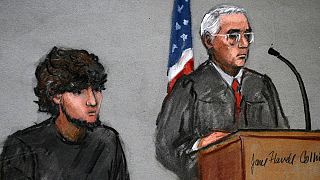 Boston Marathon bomber Dzhokhar Tsarnaev has been officially sentenced to death by a judge after a federal jury voted last month to impose capital punishment.
The 21-year-old carried admitted he was guilty of the attack with his older brother, who died while fleeing police.
The former college student apologised to survivors and relatives of the
victims saying, "I am sorry for the lives I have taken, for the suffering I have caused you, for the damage I have done."
It was the first time Tsarnaev, who did not speak in his own defence had addressed the court.
His words came after harrowing testimony from relatives of those killed and injured in the 2013 blasts.