Paris and Berlin residents express their feeling on Greece bailout talks
Comments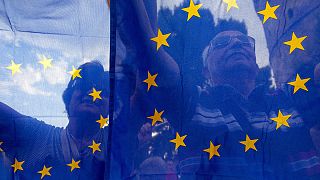 As the eurozone heads into day two of its critical week of Greek bailout talks, it's clear that it's not only Greeks who are feeling the pressure.
In Paris, which saw thousands march over the weekend to support Greece, some feel that being a part of Europe comes with responsibilities for everyone.
"When we decided to create Europe, it supposed to have an idea of solidarity," explained Parisian Pascal Bazea. "Now we should show this solidarity, and prove it:"
"On the news this morning I understood that we are heading towards an agreement. I think this is positive," said Paris resident Diane Monnier adding, "I think the Greek debt must be cancelled to help the country to recover."
These views stand in stark contrast from the rhetoric from many EU leaders. German officials have warned Greece that they would have to leave the eurozone if they fail to do a deal.
A tactic which Berlin resident Rainer is not at all happy with.
"The German government must stop destroying Greece. This is not just about Greece but also about Spain. When they (Spaniards) go to the polls we might finally get a different Europe. To me, it seems we have forces within the EU who are not interested in saving Greece but simply in doing away with a leftist governments."
"I am definitely of the opinion that we should try to keep Greece in the EU," said pensioner Gisela Hauff. "Germany is a rich country and we invested a lot of money, including us individual citizens. We hardly get any interest on our savings anymore".
Europe's grand unifier, the single currency appears to be uniting many on the streets of Paris and Berlin in the opinion that a Grexit must be avoided at all costs.