Anger at Karachi power cuts as hundreds die in Pakistan heatwave
Comments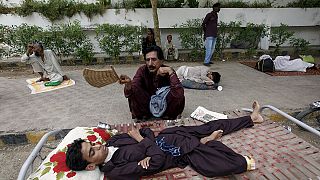 Morgues have been filling up and hospitals struggling to cope in southern Pakistan which has been struck by an intense heatwave.
The authorities said on Tuesday that more than 400 people had been killed in Karachi alone over a three-day period.
Amid soaring temperatures of well over 40 degrees Celsius, the electricity grid crashed over the weekend causing power cuts that left millions of people without water, air-conditioning, fans and light.
"There's no way of knowing when the power will come back on. Everything is going wrong because of the power cuts. I just saw a dead body; the family told me the father had died because there was no ambulance available," said Karachi resident Zobair Ali.
The outages, often caused by corruption and mismanagement, have caused anger and led to demands for compensation.
The heatwave coincides with the first few days of Ramadan when Muslims fast during daylight hours. Pakistan's federal government and Karachi's electricity supplier K-Electric had said there would be no power cuts come sunset, when families gather to break their fast.
Some respite has been predicted with rain forecast to hit the region – before temperatures then surge again at the end of the week.