Greece's students dim view of life after university
Comments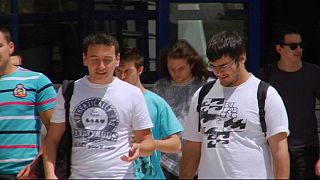 Headlines about Greece feature many abstract financial terms, but for Greek students the economic woes they might inherit are very real.
With a youth unemployment rate of 50%, the prospects of the highly educated have somewhat dimmed and many have been forced into making tough decisions about their future.
At Pireus University, students of EU affairs share their concerns.
"I chose this school thinking that I wanted to go abroad," explained Fay Pappa, continuing, "I had planned my life to be abroad in the near future. But things have changed and I cannot do that anymore, because the cost of living is very high for us. So I want to explore now if there are any chances here".
"I am worried, because even if I am leaving from the country in August, my family will stay behind," said student Fotis Stravpravdis. "So, even indirectly I will keep being affected by this situation (of uncertainty) mainly because of economic reasons. I am counting in them for help so as to finish my studies"
From our Athens office, Fay Doulgkeri explains that:
"Young people are critical of the government's actions but also of the actions of Greece's partners during the negotiations. Many of them are preparing to leave, while others have decided to stay. In any case they all express their fears about the next few months."